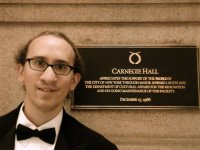 We're back, and I'm happy to report that we successfully navigated the maze of busses and subways in New York. Though the weather was miserable, we all managed to have a good time. We even managed to see a thing or two.
Business first: the performance on June 4th of Kaykhosrow's Ascension was amazing. Mike and Mary truly did an outstanding job, and I have absolutely no complaints about their performance. The other pieces on the program were great as well; I especially enjoyed Gabriela Frank's "Sueños de Chambi". The crowd was very appreciative and enthusiastic as well. We managed to fill roughly three-quarters of Weill Recital Hall.
Speaking of the hall, we managed to snap one photograph of the empty stage before the concert, even though photos were not allowed. Luckily, the usher only reprimanded us without forcing us to delete the picture. Here it is (click picture to enlarge). Eat your heart out, Carnegie usher.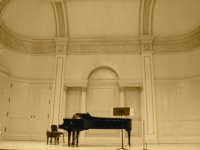 Taking a bow in Carnegie Hall is certainly one of the highlights of my career so far, and not one I will forget anytime soon. After the concert, KU hosted a reception at a swanky Italian restaurant across the street. The reception was almost as good as the performance. Besides our choice of numerous delectable meals, they offered an open bar plus various hors d'oeuvres, my favorite of which were crab cakes with avocado on top. Yum! Enjoying the food (and recital!) were numerous KU students, faculty members, and alumni. I knew many of the people there, but there were a few surprises. For instance, Jacqueline Davis, Executive Director of the New York Public Library for the Performing Arts (and founder of the Lied Center at KU), introduced herself by telling me that "Kaykhosrow's Ascension" was her favorite piece. Wow! She said that she has a few friends in New York and would like to see that piece performed numerous times by several different performers. I said OK!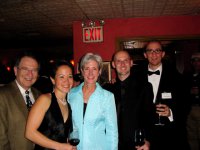 The biggest surprise of the evening was that we had an unexpected visitor. Roughly halfway through the reception, the governor of Kansas, Kathleen Sebelius, entered the room. Here's the catch: this was not planned – she was randomly having dinner upstairs and heard that there were Jayhawks downstairs. What a coincidence! At any rate, she greeted and congratulated all of us, gave a short speech, took a few pictures, and then resumed her dinner upstairs. Here's a picture:
(Left to right): Steve Hedden (Dean of Fine Arts), Mary Fukushima, Kathleen Sebelius, Mike Kirkendoll, Brian Bondari (me).
Other than that, we spent some time in Central Park, saw "The Lion King" on Broadway, ate Persian food, killed a few hours in the Natural History Museum, and walked around a lot. We had a great time.
Thanks for reading!
Originally posted on 07 June 2006.