It's the end of the Fall 2006 at KU. Thus completes another semester and a couple more notches on the eventual graduation checklist. It's been a busy semester. My first symphony had its world premiere, I received my first job invitation, and I attended the world premiere of an opera in Greenville, SC.
This past weekend, my good friend Dan Forrest and I traveled to Bob Jones University to attend the premiere of "Simeon" by Dwight Gustafson. We had a great time. BJU set us up with some complimentary rooms on campus, and I was expecting a typical dorm room. Imagine my surprise when I walked in and saw a mini-apartment, complete with a queen-size bed!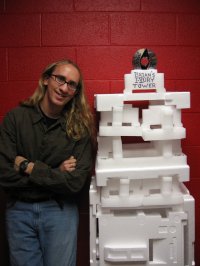 On a more humorous note, I can finally say that I have my own ivory tower! Earlier this semester a few of my enterprising former students were up late studying theory one night and decided to build an ivory tower for me. Last year I made several jokes in theory class about music theorists and ivory towers, so these students literally built a tower for me as a joke from foam packing material. They even included a headpiece with an "eye of Sauron" on top. Brilliant. Thanks Erin, Jessica, and Chris! Now I can finally boast that I have an ivory tower to call my own.
The semester concluded with food, naturally. James Barnes, my composition professor, recently hosted a chili dinner at his house for his graduate students. In addition to two types of chili, there were LOTS of assorted side dishes and desserts, including a wonderful Butterfinger, creamy, chocolaty goodness that Addy Forrest made. Yum!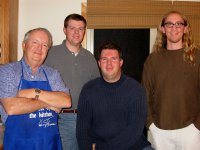 Before we left, we organized for a picture. Prof. Barnes has been mentioning that he wanted to get a picture of his "best class yet," so here are those of us in attendance.
(L to R: James Barnes, Dan Forrest, Doug Helvering, and Brian Bondari)
Thanks for reading!
Originally posted on 11 December 2006