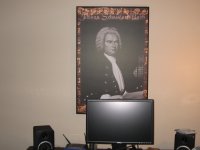 Today I received notice that I won the 2006-7 Anthony B. Cius Award, given to the outstanding student composer at KU for the year. It's a nice honor, and I'm deeply grateful. My good friend Dan Forrest won it last year, so I'm definitely in good company. Plus, I get to have my name engraved on a plaque inside Murphy Hall, which is nice.
As an added bonus, I found out that I won the award today, which is my birthday. How appropriate!
Kat surprised me with a great birthday present: a large, framed poster of J. S. Bach! (click the thumbnail for a full-size view)
Now whenever I look up from my monitor, Herr Bach will look down upon me and inspire me to keep working on my dissertation (or at least write a little counterpoint). :-)
The end of my final semester of coursework is fast approaching, and I have much work to finish. Tonight, however, we are going to celebrate with a filling, out-of-this-world dinner at our favorite restuarant, India Palace. Yum!
Originally posted on 04 May 2007