A Very Kansan Christmas (2007)
December has been a pretty and volatile month in Kansas this year. Despite its fury, it has yielded some nice photo opportunities!
Below is a collection of pictures I have taken this month. It includes pictures of:
A large hawk that settled in a tree by our house
Our "economical" living Christmas tree
Pictures of our house/yard after the snow and ice storm
Pictures of a recent trip to Clinton Lake in Lawrence, KS
One of my favorite pictures is this one that I took of Clinton Lake at dusk: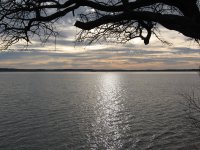 Merry Christmas!
Originally posted on 24 December 2007